Biolabmix LLC

Biolabmix LLC is a young company in the biotechnology industry. The priority area of its activity is development of the products for research work in molecular biology, biochemistry and genetic engineering. Biolabmix offers high-quality and easy-to-use materials to solve your research tasks.

Biolabmix provides a wide spectrum of quality molecular biology products for DNA amplification and gene expression analysis. We specialize in kits for amplification of nucleic acids including kits for conventional and real-time PCR, kits for RT and RT-PCR.

The enzymes are highly sensitive in a broad dynamic range enabling accurate quantification starting from 10 – 100 copies of target molecules. The Biolabmix kits guarantee high quality, efficacy and reproducibility.

The product line of Biolabmix is constantly updated and expended. Biolabmix company is open to cooperation and provides personalized customer care service.

More information: http://www.biolabmix.ru/en
Apeejay organizes 2nd Indian Obstetrics and Gynaecology (IOG) Dr.Stya Paul Awards 2013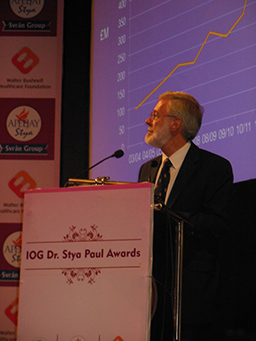 Apeejay Stya & Svrán Group held the second edition of the IOG-Dr.Stya Paul Awards on the evening of October 5 at Apeejay Campus Auditorium, Sheikh Sarai, New Delhi.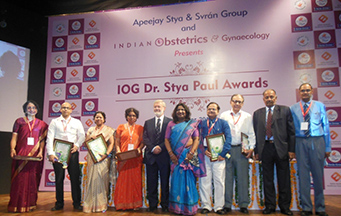 The Awards have been instituted to recognize outstanding contributory articles published in the 'Indian Obstetrics & Gynaecology - Journal for Basic & Clinical Research'. The Awards ceremony wasattended by around 500 eminent Obstetricians & Gynaecologists from various parts of the country.

Addressing the dignitaries and doctors present; Mr. Aditya Berlia, Member, Management Board of the Apeejay Stya Group said "According to WHO, 800 women die of pregnancy related complications and child birth everyday, 99% of these deaths occur in developing countries. Majority of these deaths are preventable. India, unfortunately accounts for 19% of all global maternal death and has the highest maternal death rate in the world.It also accounts for 23.6% of global preterm births, with a preterm birth rate of 13%. The contribution of these preterm births to overall prenatal morbidity and mortality is more than 85%". Today's oration endeavours to provide an opportunity to evaluate and treat problem pregnancies.

In her inaugural address, Mrs. Sushma Berlia, President of Apeejay Stya & Svrán Group, and Chancellor, Apeejay Stya University said, "When we talk about overcoming challenges, it is not important just to overcome challenges but to achieve excellence, realising your highest potential and fulfilling your deepest purposes. Today's awards recognise excellence in research in the pursuit of achieving health and happiness of women and new born."

In his special oration lecture,Professor Philip J. Steer, Emeritus Professor of Obstetrics, Academic Department of Obstetrics and Gynaecology, Chelsea and Westminster Hospital, Imperial College, London,suggested various ways with which maternal death rates can be curtailed. He said, "Using newer medication without checking the results of their clinical trials can be very dangerous. When we use new techniques in medicine, they should be properly evaluated".

The event followed with the introduction of the IOG Journal by Dr. J. B. Sharma, Editor-in-Chief, IOG Journal & Additional Professor, Dept. of Obst&Gynae, AIIMS, New Delhi.

The IOG Dr. Stya Paul Awards were presented in three categories:Best Case Report, Best Review Article and Best Original Study. The award for the Best Case Report went to Dr. Manjusha Jindal (and co-authors), Assistant Professor, Department of Obstetrics & Gynaecology, Goa Medical College.

The award for the Best Review Article was bestowed upon Dr.Prashant Joshi, Associate Professor, Department of Obstetrics and Gynaecology, Adichunchagiri Institute of Medical Sciences, Karnataka.

The Best Original Study award was won by Dr.Manidip Pal, Associate Professor, Department of Obstetrics and Gynaecology JNM Hospital, West Bengal.

The announcement and presentation of the Awards was followed by a series of presentations by the Awardees on their research. The ceremony also featured a short film on 'Reminiscences of Dr. Stya Paul'.

The event concluded with the vote of thanks by Mr. Nishant Berlia, Member, Management Board, Apeejay Stya & Svrán Group. Expressing his gratitude on behalf of the Group, he said, "I extend a very heartfelt vote of thanks to all of you for gracing the IOG Dr.Stya Paul Awards2013 and making the event a grand success."

About Apeejay Stya&Svrán Group Apeejay Stya&Svrán Group, founded in 1942, is a leading Indian Industrial & Investment House with interests in Automotives, Chemicals & Plastics, Distribution, Logistics & Retail, Life Sciences and Real Estate, and has a nascent presence in Information Technology, Merchant Banking & Financial Services and Publishing. It is one of the major corporate houses in India, and has several alliances and foreign collaborations with a significant presence in Europe, Middle East and East Asia. The Group also has a large social commitment under the aegis of the Apeejay Education Society.

About the awards: The Awards have been constituted in the memory of Dr. Stya Paul – eminent industrialist, educationist, philanthropist and freedom fighter. As Founder Chairman, Apeejay Stya Group & Apeejay Education Society and Founder Chancellor, Apeejay Stya University, he provided the foundation and inspiration for the emergence of the Apeejay Stya Group and the Apeejay Education Society as trusted symbols of quality and excellence in the country's industrial and educational landscape.
Healthcare Technology Innovation Centre (HTIC) of IIT Madras organises
3rd International Fellowship on Health Technology Assessment (HTA)

HTIC is an R&D centre (http://htic.iitm.ac.in/) formed as a joint initiative of IIT Madras and Department of Biotechnology (DBT), Government of India to address the unmet need for affordable and accessible healthcare technologies in the country. It brings together engineers, researchers, healthcare professionals, industry, and government forming a vibrant and fertile innovation ecosystem. HTIC is conducting the 3rd International Fellowship on Health Technology Assessment (HTA) from 21st to 26th of October, 2013 in collaboration with National Health System Resource Centre (NHSRC). HTA is a multi-disciplinary field of policy research that examines the clinical, economic, social and ethical implications, economic incremental value, diffusion and use of a medical technology in health care and health systems integration. HTA acts as a bridge between the world of research and the decision-making process. It is a tool to improve healthcare delivery systems of India. It helps us to know how a technology can be beneficial for the society and how it can be implemented in the government system. HTA will also help to improve the patient care in terms of related legal and ethical issues. This program will prove beneficial to healthcare related professional like biomedical and clinical engineers; students pursuing public health management and health policy courses; patient safety officers and care providers; health economists; hospital and healthcare program managers; and professionals and providers who deal with healthcare technologies. Organised in collaboration with National Health System Resource Centre (NHSRC), the fellowship will feature international and national faculty giving lectures on various facets of HTA during this week long international fellowship program. For more information, please contact: Mohammad Ameel, Consultant Biomedical Engineer, Healthcare Technology Division (Medical Devices) National Health Systems Resource Centre Ministry of Health & Family Welfare, Govt. of India NIHFW Campus, Munirka, New Delhi-110067 Tel: +91-11-26108982,84,92,93 Fax: +91-11-26108994, 83 Cell: 9971234320 Website: www.nhsrcindia.org Email: Mohammad.Ameel@nhsrcindia.org
Thomas PUMPS & COMPRESSORS

Thomas is a world leading innovator providing customized pump and compressor solution for medical device OEMs worldwide. Our wide portfolios of technology, such as Wob-L piston, diaphragm, linear and peristaltic, have made our pump the prior selection of various medical applications, which include oxygen concentrator, nebulizer, aspirator, ventilator, autoclave, blood analyzer, negative wound therapy (NPWT) and etc. With manufacturing and R&D facilities in USA, Germany and China and global sales and distribution network, Thomas has the unique edge of integrating the state-of-the-art pump technology into your desired medical application. Thomas provides reliable flow solution not only for global big names like Philips but also regional player like Taurus Healthcare, Robonik India. For more details about our products and solutions, please access to www.gd-thomas.com, or contact Mr. Manoj Ahire at 09004282345 , email. manoj.ahire@gardnerdenver.com directly .
PITTMAN® Introduces BI-05 Series Slotless Brushless DC Motor – High Performance in a 0.5" Diameter Package

PITTMAN® Motors, a business unit of AMETEK Precision Motion Control, has introduced its latest offering in a broad range of DC brush and brushless motors. The BI-05 Series slotless brushless DC motor is designed for maximum precision and performance in a package size perfectly suited for precision equipment such as surgical and dental tools, medical instruments and other health care devices in which small component size is crucial. As medical procedures trend away from the use of pneumatic devices and move toward DC motor platforms, motor design and manufacturing requires an elevated level of technology to meet the demands of these applications. The BI-05 was developed with stringent design criteria as the focal point. Its slotless motor design eliminates the magnetic cogging typically found in conventionally wound "slotted" brushless DC motors. The stator teeth are completely eliminated by forming and encapsulating the entire stator winding along the inside surface of the back iron. The result is zero detent torque, low inductance and extremely fast response rates. The BI-05 motor body measures a compact 0.5-in (12.7mm) in diameter and is capable of no-load speeds of up to 60,000 RPM. The miniature motor is rated for a continuous output torque rating of up to 0.9 oz-in (0.0064Nm). The overall motor construction is a combination of 17-4, 300, and 400 series stainless steels, the 4-pole rotor is built using high-energy neodymium magnets, and an internal circuit board supports hall sensor feedback spaced at 120 electrical degrees. Other standard features include shielded ball bearings and a tight rotor balancing spec for smooth and quiet operation at high speeds. An autoclavable version of the BI-05 also is available. For more information, visit www.Pittman-Motors.com or contact an application engineer at 267-933-2105.
Respiratory Diagnostics

Ganshorn Medizin Electronic GmbH has been developing and manufacturing technically advanced measurement devices for 30 years. Our products are designed to assist the diagnosis and management of asthma, COPD, bronchitis, emphysema and other respiratory system illnesses. The PowerCube Body+ is the result of decades of our experience in constructing body plethysmographs. • Ultrasonic flow measurement comes as standard • Calibration free • Easily adjustable 3D patient interface • Broad bench seat or a height-adjustable swivel chair • Patented LiveCal system that automatically and simultaneously calibrates both the cabin and the mouth pressure at three different frequencies • LEDs above the door magnets indicate the locked state of the door Options: • Wheelchair cabin • Single Breath Diffusion Real Time • Bronchial provocation • P100/ PImax-PEmax • Rhinomanometry • ROCC The PowerCube Ergo is the tool that meets the high requirements of cardio-pulmonary diagnostics. The pneumotachograph with variable orifice is lightweight and completely unsusceptible to moisture. The quick, highly stable gas analysers give real breath-by- breath measurements. The user interface can be freely configured for measurement and interpretation. • Standard system with Spirometry, Flow-Volume, MVV as well as "ErgoCheck" software for result validation • Further options are e.g. evaluation software LFSport, SpO2, Oscillatory resistance, ergometry system etc. • Simultaneous display of the 9-panel-diagram according to Wasserman – also on-screen during the measurement • Automated determination of the anaerobic threshold by set method (V-Slope, CO2-excess, EQO2 Minimum, RQ=1) or manually in the diagrams More information: E-Mail: kate.kosig@ganshorn.de | www.ganshorn.de
Accumax Tips

Accumax Tips are produced in a fully automatic, human touch free production facility following strict manufacturing norms. Accumax tips are produced from high quality diamond finish mould using special medical grade virgin polypropylene with high transparency: Salient features of Accumax Tips: • Free from DNase, RNase, Human DNA, Pyrogen & PCR inhibitor. Ideal match for high sensitive PCR work • Free of Lubricants and heavy metals • Innovative design of tips for adaptability with wide range of pipettes with minimum force requirement for loading & ejection • Profile and dimensions of the tips have been precisely engineered to ensure that the dispensed liquid is predictable and precise for each and every produced tip • There are graduation marks on all the tips that act as visual checks to minimize any risk of errors during sample aspiration • Unique label coding in packaging for easy identification • USFDA Approved raw material • Every version of 200µl tips and 1000µl tips is available in yellow and blue color respectively on request.
Disposable ECG Electrodes

MEDICO ELECTRODES INTERNATIONAL is one of the leading manufacturers of Disposable ECG Electrodes for all cardiac monitoring and diagnostic procedures. The manufacturing of Disposable ECG Electrodes was started by the company in the year 2002. Due to a consistent high quality of the Products, their demand grew manifolds in a short span of time. This necessitated shifting of the manufacturing facilities to a bigger site in the Special Economic Zone, NOIDA in the year 2007. Medico Electrodes International has set up a state-of-the-art electrode manufacturing facility. In addition, we use the best raw materials and maintain highest quality control standards. These, combined with our special Gel formulations, allow us to provide the best possible interface between patient and machine. The following range of electrodes are being offered: 1. Solid Gel Electrodes- Foam/Cloth with stainless steel or Radio Translucent studs and with optional fitting of 4mm Banana adapter. 2. Liquid Gel Electrodes- Foam with stainless steel studs or Radio Translucent. 3. Prewired Neonatal Electrodes- Foam/ Cloth with copper or Radio Translucent wires. More information at: www.medicoelectrodes.com
New Generation of PCR Workstation - ELISABETH PHARMACON spol. s.r.o.


We have developed a new generation of PCR workstation in the cooperation with leading technologists. Our new PCR workstation will always pleasantly surprise you. Decontamination is programmable via the control unit that works fully automatically for exactly specified time. ZEPHYRUS® PCR Box Harmony achieves a very efficient usage of germicidal UV lights that extend the plexiglass life. Sophisticated opening cover of the PCR workstation brings several advantages. The mobility of the arms in the box is much higher; the samples are better protected against DNA contamination. Variability and new construction allow you to make easy replacement of the plexiglass part of PCR workstation on the end of its life. Plexiglass box without control unit is substantially cheaper and can be ordered separately. More information: http://www.elisabeth.cz | info@elisabeth.cz
GHE Meeting at Brainlab Sales GmbH in Feldkirchen – Challenges in Middle East German Healthcare Export Group (GHE) e. V.

This year's summer meeting of the German Healthcare Export Group (GHE) e.V. took place at June 6, 2013, in Feldkirchen. The GHE members followed an invitation of Brainlab Sales GmbH to Upper Bavaria. Together, they informed themselves on current export topics in the healthcare industry. Core themes on the agenda were specific challenges of the growing market in Middle East. They were presented by Klaus Siegerth and Ulrich Martin, Executive Partners of SieMa Consulting GbR. In addition to the Middle East Region the following countries were focused at the summer meeting: Myanmar, Indonesia, Korea, Thailand and Egypt. Several member companies illustrated these countries through experience reports. Member of the Board Ronald Singer, Project Manager at Siemens Medical Solutions, was presiding over the discussion of these export markets that are not yet fully focused. GHE members who are active in the region reported their individual experiences. The meeting ended after an outlook was given on the coming important trade fairs in 2013/2014. In the course of the summer meeting the annual general assembly of the GHE took place as well. At the assembly Markus Braun, MEIKO Maschinenbau GmbH & Co KG, and Erhard Fichtner, PROTEC GmbH & Co KG – medical systems, have been re-elected as Chairmen of the organization. They appointed the advisory board that is identical with last year's board: It still consists of Heike Lange, Beta Publishing GmbH, Pierre Nasser, B. Braun Melsungen AG, and Ronald Singer.
New Tests for Determination of CNS-Markers for Neurodegenerative Diseases - MEDIAGNOST GmbH

Mediagnost, founded in 1985, is dedicated to research, development and manufacture of In-vitro-diagnostic test systems and raw materials. Mediagnost has established state-of- the-art labs, and is certified according EN ISO 9001:2000 and EN ISO 13485:2003. All test systems for clinical diagnostics are in compliance with the European Medical Device Directive 98/79/EC and are CE-labeled. The company operates in several medical and scientific fields. Main focus up to now was endocrinology and infectiology. Mediagnost offers special products for e.g. differential growth diagnostics (Growth Hormone and related Insulin-like Growth Factors and their Binding Proteins), for adipokine research (hormones like Adiponectin or Leptin), or, for determination of Hepatitis A Virus (Infection and the Virus itself). Recently, Mediagnost started to evaluate new diagnostic strategies for initial diagnosis and diagnostic work-up of central nervous system diseases. Certain diseases with different pathology are covered by this research and development activity. Current projects are dealing with Multiple Sclerosis (MS), or Parkinson Disease, or Alcohol Addiction. First success was already achieved by investigating the autoantibody status of MS patients against certain antigen targets . The same approach lead to promising results in case of Parkinson disease and Dementias . Aim of both tests is the pre-symptomatic detection of neurodegenerative diseases to allow early therapeutic intervention. Initial proof of concept studies have shown that Parkinson patients can be differentiated by their autoantibody profile from patients with non- Parkinson neurological diseases. In case of Alcoholism, the ratio for the commitment of Mediagnost is to provide physicians and researchers a tool for detection of harmful chronic alcohol consumption, and to differentiate it from accepted and tolerable, "normal", consumption levels. The successful idea here was to measure not the activity, as usual, but the amount of the enzyme Monoamine oxidase B (MAO-B). This turns out MAO-B as a valuable potential new marker for alcoholism. First new test systems are already available: E100 Anti-Neuro Auto-Antibodies ELISA E101 MAO-B ELISA Contact: Dr. Markus Langkamp, Dr. Lutz Pridzun
EKU Elektronik GmbH
High technology electronic equipment mainly for the medical world
- Medical Measurement Technology, Gas Therapy and Anaesthesia

EKU Elektronik GmbH develops, manufactures and markets innovative, high technology electronic equipment mainly for the medical world, especially in medical measurement technology, gas therapy and anaesthesia (anaesthesia machines, anaesthesia ventilators) for the health care sector such as hospitals, clinics, mobile anaesthetists, military and research organisations and distributes them world-wide as an EKU original product and/or as an OEM product (private label basis). In the last few years EKU has mainly been concentrating on developments for the above mentioned fields. For more information, britta.pulch@eku-elektronik.de
ULTRASONIC SYSTEMS

ELMA is a German manufacturer of ultrasonic cleaning, steam cleaning, cleaning workstations and table top autoclaves. We have 200 employees at 4 locations in South Germany. All our machines are designed and manufactured in Germany. With our technologies we achieve a better cleaning effect the usual washer disinfectors. With ultrasonic cleaning all parts and surfaces of the instruments can be cleaned. Even areas which are inaccessible to other cleaning technologies like spray cleaning or manual cleaning. Very popular in CSSD´s of hospitals is steam cleaning. With steam you can remove every kind of dirt within a few seconds. Even coagulated dirt can be removed very fast. The cleaning with steam is very effective but at the same time were smooth and gentle to the instrument. Very effective are also the table top sterilizers from ELMA. Our ELMACLAVE uses the state of the art B-Class technology which uses a fractionated vacuum. The idea is to extract all the air out of the hollow parts of the instruments to make sure that the steam (which is necessary for the sterilization) can reach every area of the instrument. More information: http://www.elma-ultrasonic.com
MULTI-FLO leads the at MEDICA for Rigel Medical

Rigel Medical's state-of-the-art infusion pump analyser MULTI-FLO will be the main attraction among a range of advanced performance analysers, electrical safety analysers and vital signs simulators on show at this year's MEDICA. Meeting all the requirements of IEC 60601-2-24, MULTI-FLO leads the way in high and low flow, occlusion, back pressure and bolus measurement and features variants of one, two and four independent channels. Each channel can be tested simultaneously across a range of 100 µL (microlitre) to 1,500 mL per hour with results stored in the instrument's large internal memory. With a sampling rate of 1Hz, the Multi-Flo can accurately detail any changes in flow and pressure rates, providing a real-time picture of the quality of infusion. Also on display will be UNI-THERM, the easiest way to test all leading electrosurgical devices, providing accurate results as it quickly and automatically guides the user through test procedures. A key feature is the automated activation of the ESU pedal or hand switch from coag to cut, without the need to manually change resistors to simulate different tissue types, while contact quality monitoring (CQM) analysis, high current power measurement and HF leakage are also beneficial. A high power load bank enables performance testing up to 8A RMS to allow testing and calibration of high current vessel sealing technologies and with a duty cycle of up to 100%, making the analyser an extremely versatile test instrument for calibrating and performance testing of conventional and high power electrosurgical generators. The compact UNI-PULSE defibrillator analyser and UNI-SIM, which is capable of undertaking six synchronised vital signs parameter tests simultaneously: NIBP, SpO2, ECG, temperature, IBP and respiration functionality tests will complete Rigel Medical's impressive display. Associate director John Backes said MEDICA is one of the most important platforms for showcasing the benefits of the company's product range, adding: "I'm sure the many features and benefits of the MULTI-FLO alongside our other high performance instruments will be of real value added interest at MEDICA to new and existing customers." Rigel 288 forms part of a comprehensive range of high performance specialist biomedical test equipment supplied by Rigel Medical, part of the Seaward Group. More at www.rigelmedical.com or email info@rigelmedical.com
Belintra: More than equipment

Belintra is a leading provider of safe and smart healthcare logistics solutions based in Belgium. The Belgian healthcare system is rated amongst the best in the world and has been selected as the second most competitive by the World Economic Forum in 2012- 2013. The experience built over the decades with regards to functionality, ergonomics, quality and outstanding service on one hand, combined with competitive pricing on the other hand, enables us to offer the best solutions around the globe. Belintra is much more than a supplier of equipment. We develop the necessary infrastructure, enable organizational and logistical processes and implement workable solutions. These embrace all storage and transportation challenges a healthcare organization faces and extend throughout all departments including the nursery ward, sterilization & OR, pharmacy, emergency & ICU and laundry & waste disposal facilities. Belintra's modular healthcare logistical solutions cover: • Medication & Care Distribution; • Mobile Workstations; • CSA Tables and accessories; • Storage and Internal Transport for both sterile and non-sterile goods; • Baskets, Trays and Logistical accessories; • Track & Trace systems; • Laundry & Waste collection and disposal.
Umbra medical Products, Inc.

Cardiovascular Interventional Disposable, Implantable Devices: Coronary DES, BMS-CC- SS, Balloons-Semi-HP-CTO, PTCA Inflator-Guidewires-Y Kits-Control Syringe-Pressure Lines, Diagnostic Catheters, Introducers, Hemostatic Pads-Bands-Strips. Certifications: ISO, CE, FDA. More information: umbramedical@aol.com, www.umbramedical.com
Ready-Heat Temperature Management Blankets: The Patient Warming Solution

GØ Fully mobile patient warming device that can move with the patient from pre-op to intra-op and on to post-op. Ø Warms up automatically, without the need of a power source, eliminating wasteful electricity usage and additional equipment. Ø Cost effective way to keep every patient warm by preventing anesthesia induced hypothermia, increasing patient comfort for higher quality of care and an effective solution for infection control. Ø Medical grade non-woven material, engineered thermal pads and proprietary high frequency welding constitute this original and most tested, fully-disposable patient warming solution. Ø With a complete line of blankets, Ready-Heat can be used for patient rescue and transport and throughout the hospital for treating shock, trauma and hypothermia. Also available in Torso size and in an Infant Warming Mattress. More Info: http://www.techtradellc.com
Rapid diagnostic fertility and drugs

Diagnostic Tests: Phamatech, Inc. specializes in manufacturing rapid diagnostic fertility and drugs of abuse tests for both professional and retail markets. Our quality products are made in the USA, FDA cleared, CE marked and ISO 13485:2003 certified. Seeking distributors worldwide. More information: www.phamatech.com
World Class Gynecological Products

Worldwide leader in Manufacturing and Development of Gynecological Products: All Models of IUD's (TCu 380A,TCu 380A plus,TCu 380A With Safeload),Cu 375(Standard & Sleek),TCu 380Ag(Mini, Normal & Maxi)],Loading Devices, Hysterometer,IUD thread retriever,Non-Absorbable Surgical Sutures,Cytokit and Umbilical Cotton Tape.ISO13485:2003,CE & WHO GMP Certified. For more information: International Sales- SMB